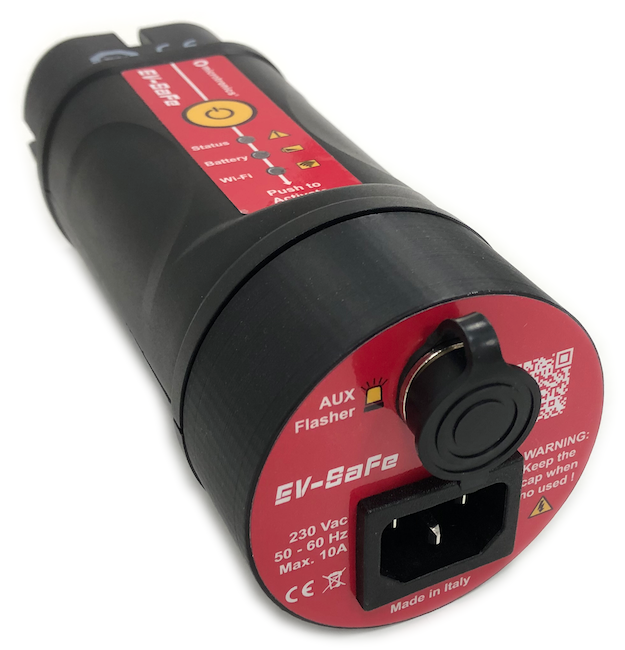 When working on an electric vehicle for a rescue or maintenance operation, specific safety measures must be taken to minimise both the electrical risk, caused by the high battery voltage, and the mechanical risk, caused by the fact that the vehicle may move unintentionally during the operation!

EV-SaFe by Microtronics is a technologically advanced product that combines three
useful functions into one portable instrument:
Electronic plug for securing electric vehicles: EV-SaFe connects directly to the charging socket, and after a few seconds enters into communication with the on-board electronic systems, from which it obtains critical information on the electrical insulation of the batteries and immobilisation of the vehicle, as well as the temperature of the vehicle chassis.
Electronic tester for diagnosing charging socket function: EV-SaFe is not only a support for securing electric vehicles, but also a real diagnostic tool useful for testing the efficiency of the charging socket interface.

Home charging station: at the same time, when connected to the power grid, the EV-SaFe becomes a true auxiliary charging cable, capable of recharging the vehicle's battery in compliance with the highest safety standards!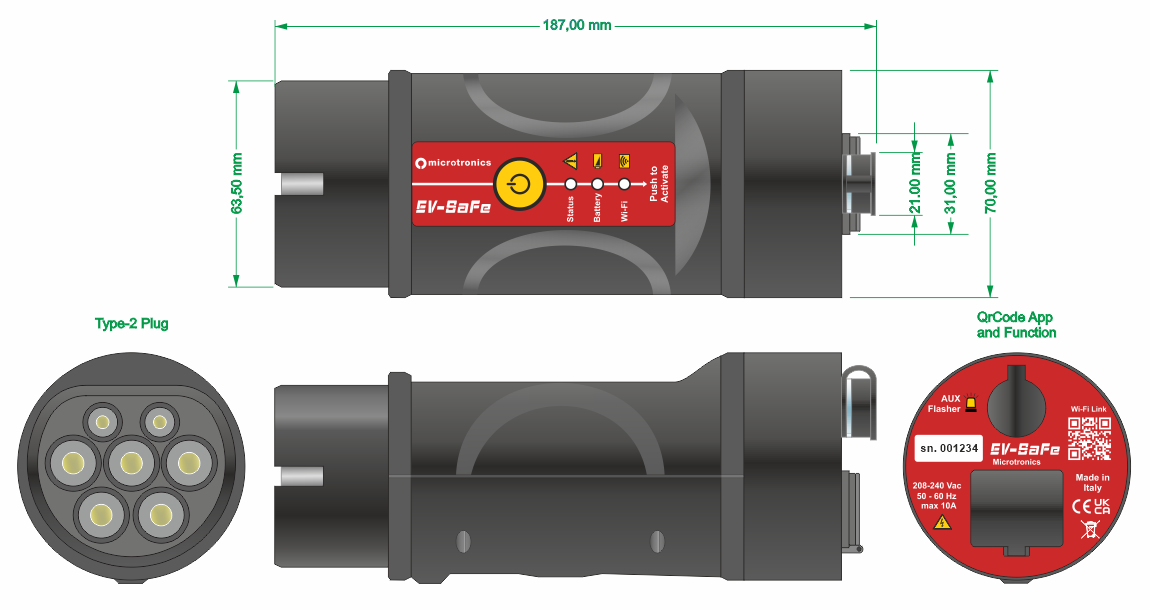 Technical specifications:
Charging connector integrated in the body of the instrument itself, compatible with Type-2 "Mennekes" socket found in most latest generation electric vehicles; (optional adapters for other socket types are available);
802.11 b/g/n compliant WiFi interface, direct connection to PC or Smartphone for access to the EV-SaFe's graphical interface for monitoring functions and/or to set up a connection to the local wireless network;
Wireless control for opening the charging door of Tesla vehicles;
Automatic internal software (firmware) update via WLAN-WEB;
Implementation of the CP-PP communication protocol with the vehicle's electronic systems to confirm the efficiency of the electrical isolation of the battery's high voltage and the inhibition of the vehicle's motors;
Built-in electrical contacts temperature sensor: indirect measurement of vehicle chassis temperature;
Dual acoustic and LED signalling (a magnetic LED flashing bar is available (optional).
Internal rechargeable Li-Ion battery, with autonomy >5h in continuous operation (with WiFi interface switched off and without auxiliary flashing bar);
Vehicle charging function with leakage current detection and eventual contactor blocking; nominal current 6A, maximum 10A (domestic/slow charging);
Dimensions and weight: 182x70mm - approx. 590gr
further information on
Ev-SaFe !
write to info@microtronics.it